7digital launches music charities group: Reprezent radio interview
COMMUNITY
To kickstart 2016, 7digital launched a charities group with the aim of increasing our charitable activities to support musical projects across London. We are pleased to announce that we will be working closely with Youth Music Network in order to support various organisations, two of which include Raw Sounds and Reprezent FM. We're aiming to not only carry out action-packed fundraising drives but also to provide hands-on support sharing our technical expertise and musical knowledge to assist the projects. We recently visited Brixton and caught up with Adrian Newman, Station Founder at Reprezent FM. He gave us the lowdown on the roots of the organisation and how we can help support them and the young people involved.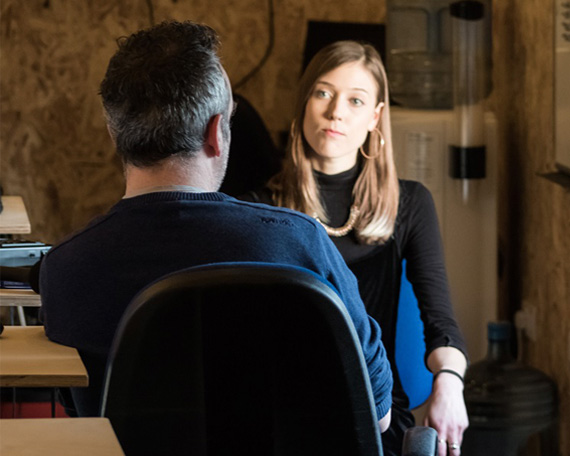 Hi Adrian, lovely to meet you. We firstly wanted you to introduce yourself and the station- what does Reprezent do?
Hi I'm Adrian and I'm the station manager for Reprezent 107.3FM, also on DAB and a high quality stream for online listening. Reprezent is the only youth-led radio station in the UK. All of the young people are responsible for their shows, for the creative output of the station, for the the playlists and the music, and for broadcasting their opinions and their tastes across London to other young people. What Reprezent as a company does is provide this platform for young people, providing all the training that they need to be able to be a youth-led radio station. With all of the training we give, there's an extra-curricular accredited training, as well as one-to-one aspirational career-training. We run it as a drop-in, and at the moment we have about 80 presenters, 40 broadcast assistants and and 30 trainees at our training space in Peckham.
How do young people go about getting involved with Reprezent?
There are a number of different ways. The first is through our website via a subscriptions page where young people sign up and tell us what they would like to do. If there's training applicable to them, their age and their area, then we get in touch with them, invite them in and they can start a training course. When they're doing the training, after 10 sessions if they're still committed and enthusiastic, then there's the opportunity is to come and volunteer at the station. They'll start shadowing the Broadcast Assistant (BA), then we'll start dripping through small tasks for them to do. A lot of them realise it's not for them, because they don't all get to meet Stormzy in the first week! Then they get to become a BA and even some of the BAs after a while realise it's not for them, because within six months, they still haven't met Stormzy yet. But that's the media industry- you don't get to meet pop stars everyday. But when the young people have done really great work, then we'll make sure they get access to the more glamorous side of what we do. For example, when So Solid Crew come to do their show, we know that there will be a few spaces in the studio, and there are about 12 young people in our playlist group, who come in and do three hours every two weeks. There's no glamour in that, so they're the ones who get access to that opportunity.
The second way is word of mouth. If somebody is beginning to get on the radar of our presenters and producers, they'll let us know and we'll reach out to them. There are some young people who have never heard of Reprezent, but they're doing specific things which would really benefit both us and them by them becoming involved.
The third way is pure talent scouting. We try to keep a balanced schedule, and if it's all just unknown young people then we'd flop as a station, so we have to have a few presenters who are beginning to get a bit of profile and we can then act as a catalyst by getting them up to the next stage.
When a presenter's been with us for a couple of years and they know the ropes back to front, then they start mentoring other young people. The BAs who come in are being mentored constantly by the presenter in the seat, and they become really good friends. Usually after about six months the BA will then get a show.
There definitely seems to be a strong sense of community within the station. We know that it's increasingly difficult for young people to get into the creative industry these days. Could you share your thoughts on why you think this is, and what you feel the station does to give them avenues?
There's a whole tier of young people who will find it very difficult getting into the media industry because the pathways that are there at the moment tend to suit young people from more economically-advanced backgrounds. For example, you'll have a production house or a PR agency that requires you to do six months low-paid or even voluntary full-time work. And there are young people who just can't afford to do that. There's a real lack of opportunity based on socio-economic status which is really hard. Getting the voluntary jobs is very difficult for young people to do, and we're not a full solution to that: it's a real problem across the industry. We've got people from very privileged backgrounds here – very few of them, but we have to have a balance, then we've got people from sink estates in Walworth. By coming to Reprezent and learning the ropes here, they get basic skills and volunteering behind them before they are even 16, which puts them in a much better position when it comes to the university age. A lot of them don't go to university but have enough volunteering hours behind them to make them quite marketable.
Do you think media organisations have begun to pick up on what you're doing?
I think we've earned our stripes over the last few years as some of the organisations that do recruitment are beginning to understand that Reprezent does carry a certain reputation. If you look at the BBC, for example, there are a lot of Reprezent kids who've gone there.
How long do young people usually stay?
It can be a really long time; sometimes it takes a long time for a young person to get to where they want to be. We have a turnaround of around 400-500 young people a year; a lot of them come from different funded training programmes. The core of Reprezent is very difficult to fund, because some of them are over-18 and there are lots of funds that won't deal with over-18s. Some of them are here for a while because they're great on air, so they bring us listeners, and they are people who other young producers aspire to be.
Neptizzle who does a Friday night is now 26; he's a Vietnamese Afrobeats DJ and he's one of the most successful in the UK. I know that a lot of the young people who sign up have referenced DJ Neptizzle, so he's become a sort-of role model. It would be foolish to get rid of successful presenters like him. Again, Reprezent is about balance.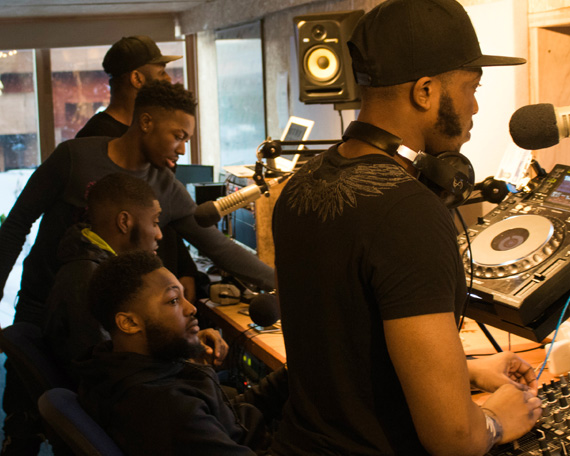 How is Reprezent funded, and how do you benefit from companies like us getting involved? How can we help?
It's a difficult question. There's the first and primal need for money, and we're not going to shy away from that, but there's also the support network we get from the organisations, exposure and business advice, which we've been getting from Ministry of Sound. We get a lot of support from the radio industry, all the different pluggers and different agencies know that we're both really skint and really ambitious and that we work with young people. So they'll bend over backwards to help us out. We get support from a lot of people, it's very small, but it is absolutely essential. Some of our technology or some of the ways we do our "listen-agains" or our streaming service, or the ways we log our work, you'd probably look at and go, "oh god, I can't believe you're using a weird piece of free-ware!"
Well we've got a wealth of experience on the technical side. One of the things we have talked about is coming down and volunteering, being a little more hands on, rather than just signing a cheque. We want to get people involved because we have an entire tech team.
I'd be really intrigued for somebody to come in and look at what we do and tell us how we should be doing things. We were really lucky, and we got a philanthropic donation of £10,000 about a year and a half ago, which all went on a server. The way we run our playout software, and how we store our data is now really strong. But the way that we stream and the way we log, we'd be really interested in some help there. And also for music- we spend a fortune on music and it's difficult because when I was a DJ, I had to go out and buy records. Then something happens like David Bowie dies, and we're here and I haven't got access to my Bowie CD at home, and we need a track now.
Do you have a specific success story?
Martha going to the BBC was a really great moment. She was the first one and she really deserved it. For her to be headhunted to go to the BBC from Reprezent, where she'd been doing an internship for six months, was a win. The moment when the sound of 2015 came out and both Stormzy and Novelist were on it, that was really great. Having Slaves to come in and do a live session was hilarious.
Everyday there are little things you get proud of, but they're generally really tiny. People getting their gigs at 1xtra is really great, but also Nathan getting a job at Ministry Of Sound. He was 22, working a really rubbish admin job, really unhappy, so us brokering him a job there was great. Some kids have ended up at uni when even their teachers had written them off. We did one programme a few years ago that was about kids excluded from school, and now Maria and Diana are not just at school but at college, and also the head of events. These things really make it worthwhile.
What are your hopes for the future?
I would like a revenue stream which comes from brand alignment and advertising. That's an ambition. We'd like to get the perception and the profile of the station really high, so that we get something that brings in enough money, then we can actually pay some of the presenters a little bit, have more interns, and just grow. We'd also like to have more production staff, because for the young volunteers themselves, mentoring is great. It would be great to employ a couple of producers because the kids would benefit massively, the shows would benefit and thus the station would benefit massively. I think to be more financially secure is always the goal.
Thank you to Jim and Dan for co-ordinating interview and photography.