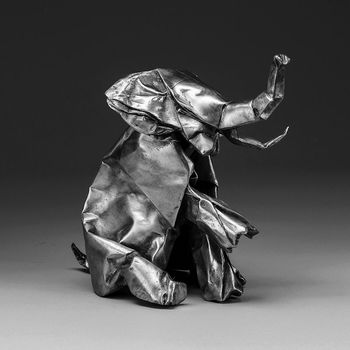 Preview Black Origami
Record Label:
Planet Mu Records Ltd.
7digital

What we said:

Glitchy and off-kilter, Indiana producer Jlin makes frenetic electronic music unlike anything you've heard before. Picking up where her highly acclaimed 2015 debut Dark Energy left off, Black Origami finds an artist in her element, playing with the conventions of Chicago's footwork and juke house scenes, all while creating something a little more left-field and innovative. Songs like 'Kyanite' whirr with innovative industrial theatricality, while 'Calcination' is more minimalist and expansive, embellished with soothing angelic voices. Although there are occasional moments of melody, what is especially impressive is Jlin's grasp of vivid, futuristic percussion and polyrhythm. All drum machines and distorted samples, this is an album of ambitious, odd, and quite beautiful sounds.
| Track Number | Track Title | Track Length | Track Price/Buy Link |
| --- | --- | --- | --- |
| 1 | Black Origami | 4:30 | |
| 2 | Enigma | 3:48 | |
| 3 | Kyanite | 4:25 | |
| 4 | Holy Child | 4:04 | |
| 5 | Nyakinyua Rise | 3:40 | |
| 6 | Hatshepsut | 4:40 | |
| 7 | Calcination | 1:38 | |
| 8 | Carbon 7 (161) | 4:13 | |
| 9 | Nandi | 3:30 | |
| 10 | 1% | 3:46 | |
| 11 | Never Created, Never Destroyed | 3:31 | |
| 12 | Challenge (To Be Continued) | 2:43 | |
Duration:

44:28
Genres:
℗ 2017 Planet Mu
© 2017 Planet Mu