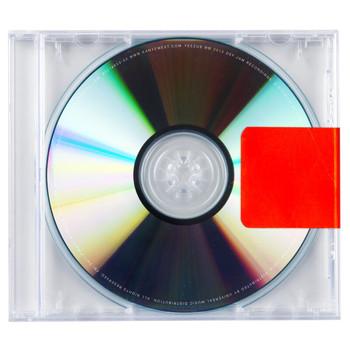 Explicit Content
Preview Yeezus (Explicit)
Record Label:
(P) 2013 Def Jam Recordings, a division of UMG Recordings, Inc.
Appears in our Best of 2013
7digital

What we said:

Kanye West is a genius. As he recently reminded The New York Times, he's "the Michael Jordan of music", a "great activist-type artist…", a creative "connected to the most influential artists of the past ten years... Steve Jobs, Walt Disney, Henry Ford, Howard Hughes…" One might worry he was overcompensating for some crippling inferiority complex, were it not for the fact he's gone and delivered the goods again. Offering up 40 minutes of flab-free hip-hop, Yeezus is more succinct than its predecessors. West sounds a damn sight angrier here too, furiously venting his spleen over a brutal backdrop of glitchy electronics, sledgehammer beats, deliberately-butchered samples and screams. It's not all about West, though: he's magnanimously invited God along for a duet too.
| Track Number | Track Title | Track Length | Track Price/Buy Link |
| --- | --- | --- | --- |
| 1 | On Sight (Explicit) | 2:36 | |
| 2 | Black Skinhead (Explicit) | 3:08 | |
| 3 | I Am A God (Explicit) | 3:52 | |
| 4 | New Slaves (Explicit) | 4:16 | |
| 5 | Hold My Liquor (Explicit) | 5:27 | |
| 6 | I'm In It (Explicit) | 3:55 | |
| 7 | Blood On The Leaves (Explicit) | 6:00 | |
| 8 | Guilt Trip (Explicit) | 4:04 | |
| 9 | Send It Up (Explicit) | 2:58 | |
| 10 | Bound 2 (Explicit) | 3:49 | |
Duration:

40:05