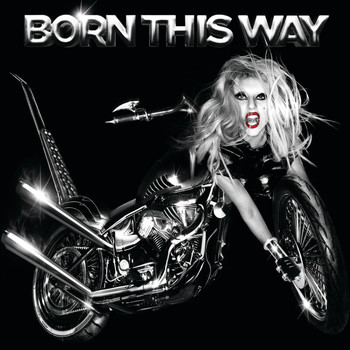 Preview Born This Way
Record Label:
(P) 2011 Interscope Records
7digital

What we said:

Prosthetic bumps, egg-shaped transport, charcuterie couture: Lady GaGa's nothing short of a living, breathing piece of conceptual art these days. In fact, sometimes those deranged get-ups and dumbfounding live shows can be so utterly absorbing it's easy to forget what a talent she is. Born This Way is a timely reminder then, seeing Queen Monster's powerful vocals let loose on an exhausting carnival of pop. Numbering gems like the bassy, disco-strut of 'Government Hooker', the deranged Deutsches techno of 'Scheiße' and the Estefan-on-MDMA, Latin-influenced 'Americano', this one boasts more singles than a Star Trek convention.
| Track Number | Track Title | Track Length | Track Price/Buy Link |
| --- | --- | --- | --- |
| 1 | Marry The Night | 4:24 | |
| 2 | Born This Way | 4:20 | |
| 3 | Government Hooker | 4:14 | |
| 4 | Judas | 4:09 | |
| 5 | Americano | 4:06 | |
| 6 | Hair | 5:07 | |
| 7 | Scheiße | 3:45 | |
| 8 | Bloody Mary | 4:04 | |
| 9 | Bad Kids | 3:50 | |
| 10 | Highway Unicorn (Road To Love) | 4:15 | |
| 11 | Heavy Metal Lover | 4:12 | |
| 12 | Electric Chapel | 4:13 | |
| 13 | Yoü And I | 5:07 | |
| 14 | The Edge Of Glory | 5:21 | |
| 15 | Born This Way | 5:58 | |
Duration:

1:07:05
Genres: