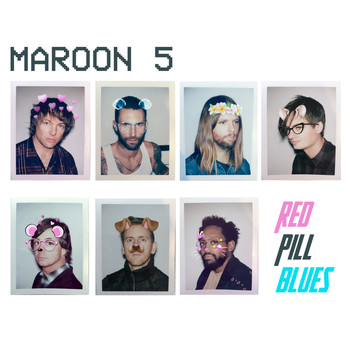 Preview Red Pill Blues
Record Label:
A 222 Records/Interscope Records Release; ℗ 2017 Interscope Records
7digital

What we said:

With album number six, Los Angeles pop mammoths Maroon 5 seem to be taking on the question that The Matrix - and more recently, memes - posed: the red pill or the blue pill? The grim truth of reality, or blissful ignorance? Though the title suggests they've gone for the former, Red Pill Blues isn't exactly dystopian in subject matter, talking relationships and romance rather than finding Adam Levine's languid vocals tackling Ridley Scott narratives. With that said, musically they're taking on the repetitive, minimalist sound du jour - at times glassy and sculptural, others bouncy and tropical. With features from SZA, A$AP Rocky, Julia Michaels and last year's huge hit single with Kendrick, this is set to be one of the biggest pop albums of the year.
| Track Number | Track Title | Track Length | Track Price/Buy Link |
| --- | --- | --- | --- |
| 1 | Best 4 U | 4:00 | |
| 2 | What Lovers Do | 3:20 | |
| 3 | Wait | 3:11 | |
| 4 | Lips On You | 3:37 | |
| 5 | Bet My Heart | 3:16 | |
| 6 | Help Me Out | 3:14 | |
| 7 | Who I Am | 3:03 | |
| 8 | Whiskey | 3:30 | |
| 9 | Girls Like You | 3:35 | |
| 10 | Closure | 11:29 | Not available separately |
| 11 | Denim Jacket | 3:53 | |
| 12 | Visions | 3:51 | |
| 13 | Plastic Rose | 3:43 | |
| 14 | Don't Wanna Know | 3:34 | |
| 15 | Cold | 3:54 | |
| pdf | Red Pill Blues | | Not available separately |
Duration:

1:01:10
Genres:
℗ A 222 Records/Interscope Records Release; ℗ 2017 Interscope Records
© 2017 Interscope Records