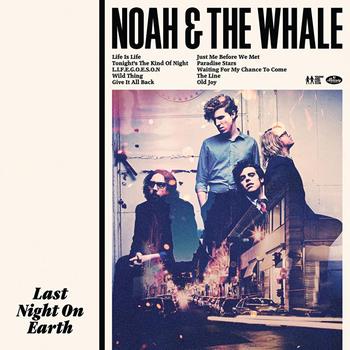 Preview Last Night On Earth
Record Label:
(P) 2011 Mercury Records Limited
7digital

What we said:

Just as Mumford and Sons and Laura Marling are winning Brits and the hearts of the masses, Noah and the Whale, their co-conspirators in the British folk resurgence, have plugged in the synths and jumped ship. Though with last album, The First Days of Spring, acting as a form of aural therapy by laying bare the painful disintegration of singer Charlie Fink's romantic involvement with Marling, it's probably for the best. Its follow-up is aural proof that Fink has exorcised those demons. 'Life is Life', in particular, is so unabashedly positive you can't help but be swept up by the hopeful lyrics and gospel singers in this air-punch-worthy slice of sleek pop-rock. Expect to hear Last Night on Earth on a motivational montage very soon.
| Track Number | Track Title | Track Length | Track Price/Buy Link |
| --- | --- | --- | --- |
| 1 | Life Is Life | 3:37 | |
| 2 | Tonight's The Kind Of Night | 3:10 | |
| 3 | L.I.F.E.G.O.E.S.O.N. | 3:48 | |
| 4 | Wild Thing | 4:49 | |
| 5 | Give It All Back | 2:56 | |
| 6 | Just Me Before We Met | 3:38 | |
| 7 | Paradise Stars | 1:30 | |
| 8 | Waiting For My Chance To Come | 2:55 | |
| 9 | The Line | 3:31 | |
| 10 | Old Joy | 3:34 | |
Duration:

33:28
Genres: