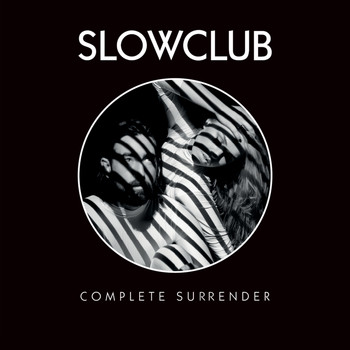 Preview Complete Surrender
Record Label:
℗ 2014 Slow Club, licensed to Caroline Music International Limited
7digital

What we said:

As if subscribing to the theory that "slow and steady wins the race", Charles Watson and Rebecca Taylor have spent the best part of a decade incrementally improving as songwriters, and gradually growing their fan base. It would now appear the duo have finally lost patience, because their third LP is the aural equivalent of a sprint finish. Gone are the ramshackle indie-folk ditties of Yeah So and Paradise, and in their place are shiny, 60s-inspired pop hits that truly showcase the power and beauty of Taylor's voice. Ranging from the Motown-endebted 'Suffering Me, Suffering You' to the Bond theme-shimmy of the title track – via the Bacharach-esque swing of 'Not Mine To Love' – Complete Surrender proves an utterly irresistible listen.
| Track Number | Track Title | Track Length | Track Price/Buy Link |
| --- | --- | --- | --- |
| 1 | Tears Of Joy | 4:05 | |
| 2 | Everything Is New | 3:42 | |
| 3 | Suffering You, Suffering Me | 3:25 | |
| 4 | Not Mine To Love | 4:17 | |
| 5 | The Pieces | 3:21 | |
| 6 | Number One | 4:40 | |
| 7 | The Queen's Nose | 4:38 | |
| 8 | Complete Surrender | 3:24 | |
| 9 | Paraguay And Panama | 2:30 | |
| 10 | Dependable People And Things That I'm Sure Of | 3:44 | |
| 11 | Wanderer Wandering | 7:44 | |
Duration:

45:30
Genres:
℗ 2014 Slow Club, licensed to Caroline Music International Limited
© 2014 Slow Club, licensed to Caroline Music International Limited