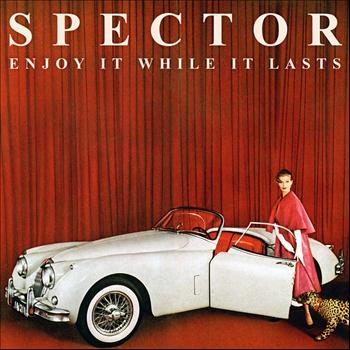 Preview Enjoy It While It Lasts
Record Label:
(P) 2012 Polydor Ltd. (UK)
7digital

What we said:

Ron Mael-alike Fred Macpherson reportedly found Spector's sound by tinkering with a "Casio keyboard and a few Gloria Estefan samples". If that sounds unconventional, it's probably less eccentric than his former band Ox.Eagle.Lion.Man, whose sprawling folk songs about "bringing up children in forests" were, by his own admission, an acquired taste. Anyway, Spector's debut album owes a lot to the quirky, synth-infused, guitar-pop of Pulp and Roxy Music, and approximately zilch to the Latin rhythms of 'Dr Beat', and vindicates the BBC's Sound of 2012 committee who tipped the Dalston-formed quintet as ones to watch back in January.
| Track Number | Track Title | Track Length | Track Price/Buy Link |
| --- | --- | --- | --- |
| 1 | True Love (For Now) | 3:38 | |
| 2 | Chevy Thunder | 3:46 | |
| 3 | Grey Shirt & Tie | 3:21 | |
| 4 | Twenty Nothing | 3:26 | |
| 5 | Friday Night, Don't Ever Let It End | 3:49 | |
| 6 | Lay Low | 3:18 | |
| 7 | Upset Boulevard | 3:45 | |
| 8 | No Adventure | 3:36 | |
| 9 | What You Wanted | 3:17 | |
| 10 | Celestine | 3:43 | |
| 11 | Grim Reefer | 2:52 | |
| 12 | Never Fade Away | 3:37 | |
Duration:

42:08
Genres: