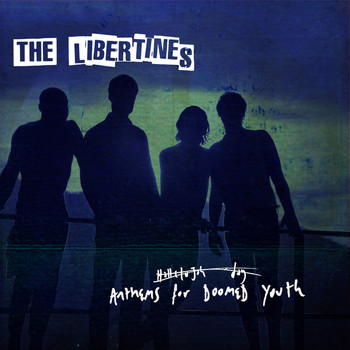 Preview Anthems For Doomed Youth
Record Label:
℗ 2015 Libertines Recording Limited, under exclusive licence to Virgin EMI Records a division of Un
7digital

What we said:

When Pete Doherty and Carl Barât sang, "What became of the likely lads?", we didn't envisage the line proving prophetic. Nevertheless, there are now 11 years of solo careers, side-projects, well-documented spats and stints in rehab separating The Libertines' self-titled second album from this long-anticipated follow-up. Happily, time hasn't eroded Pete and Carl's chemistry, nor their knack for making melodies so loose-limbed, they teeter thrillingly on the brink of chaos. But for all the youthful abandon of 'Heart Of The Matter' and 'Glasgow Coma Scale Blues', it's the ballads that cut deepest here, illuminating an underlying thread of world-weariness that doubtless emanates from more than a decade of struggles. Perhaps most significantly, Anthems For Doomed Youth finally resolves the whole "what became of the likely lads" conundrum: they simply grew up.
| Track Number | Track Title | Track Length | Track Price/Buy Link |
| --- | --- | --- | --- |
| 1 | Barbarians | 3:36 | |
| 2 | Gunga Din | 2:59 | |
| 3 | Fame And Fortune | 3:07 | |
| 4 | Anthem For Doomed Youth | 4:27 | |
| 5 | You're My Waterloo | 4:19 | |
| 6 | Belly Of The Beast | 4:07 | |
| 7 | Iceman | 4:59 | |
| 8 | Heart Of The Matter | 3:29 | |
| 9 | Fury Of Chonburi | 2:40 | |
| 10 | The Milkman's Horse | 3:23 | |
| 11 | Glasgow Coma Scale Blues | 3:12 | |
| 12 | Dead For Love | 5:14 | |
Duration:

45:32
Genres:
℗ 2015 Libertines Recording Limited, under exclusive licence to Virgin EMI Records a division of Universal Music Operations Limited
© 2015 Libertines Recording Limited, under exclusive licence to Virgin EMI Records a division of Universal Music Operations Limited