The Invisible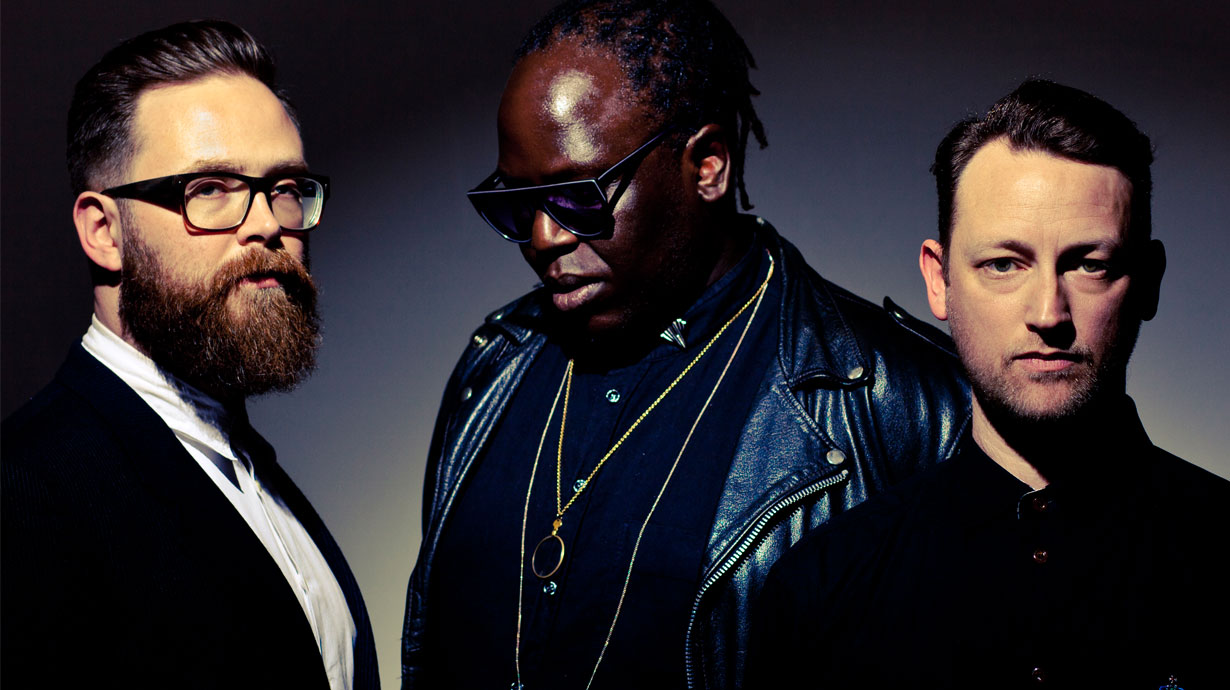 Having been electrocuted on stage back in May, Dave Okumu of The Invisible is incredibly lucky to be alive. Ahead of the release of the trio's second album, we spoke to him about his brush with death, his work on Jessie Ware's record and the inspirations behind the quite extraordinary Rispah.
Hi Dave, what are you up to today?
I'm just getting ready to do some mixing up at Konk Studios: I'm producing the debut album of an amazing artist called Lulu James. It's my next album project after Jessie Ware, so, yeah it's really exciting.
What initially attracted you to work with Jessie?
I met her manager at a barbecue at Paloma Faith's house: he was flipping burgers so I was drawn to him, naturally. (Laughs) We got chatting and he told me they were in the process of putting together an EP and asked if I'd be interested in meeting her. I'd heard the track she'd done with SBTRKT so we met up in Amy Winehouse's old room in Sensible Studios and I loved her instantly.
I was really intrigued to discover what she was about and what she wanted to say musically, because it felt like maybe she hadn't been given a chance to do that. So we just started exploring that together and that sort of ended up with her asking me to produce her record, which was a great, great honour.
And it's been nominated for the Mercury Prize. You were nominated too for your last album: how did that change things for you?
It's a nationally respected award so it's just such a boost. The Mercurys seem to occupy a unique place in the musical calendar, because it promotes a healthy debate about what's going on in British music every year. It's not about hype or genres, it's just an acknowledgement of excellent work. And it propels you into people's consciousness. So it just gave us a wider reach, in terms of the audiences we were able to connect with, which was really amazing.
So congratulations on the new album. We understand that you lost your mother during the recording of Rispah: did you ever consider abandoning sessions entirely?
My mother's death was a real shock. Losing a parent was a defining moment: it felt like a line had been drawn through my life from beginning to end, and that I was standing on the other side and that everything was new. The only thing I could really think about was the loss of the most important person to me. There was an enormous process of recalibration that I think will probably go on for the rest of my life.
In the immediate weeks following my mum's death, I disconnected from music; I wasn't really listening to music in the way that I used to and didn't really feel able to make stuff. And there was no guarantee that that would ever return, so it felt like the only thing I could do was not worry about the future and just try to come to terms with what had happened. I didn't know whether I was going to have a breakdown or whether I was going to be fine, so I guess I went on a real journey with that grief, and I'm still on it, for sure.
What motivated you to continue?
In the process of going home and laying my mum to rest, I had a really amazing experience where music returned to me. It was at my mum's funeral, when I heard these women, who'd accompanied my grandmother, singing traditional spiritual songs from my tribe. When I heard that sound, the reason why I think music's important came flooding back and that really shaped my journey back into music, if that makes sense?
Presumably Rispah's pretty different sonically to the album you intended to make. Where do you think you would have gone?
It's difficult to speculate, because we don't really set out with an agenda as such. For me, the best way to make records is to make something that is true, and something that actually represents who you are as a person at that point in time. So in a way, this whole journey is a real testament to that, because we absorbed these massive shifts and experiences into the music.
I remember us saying we wanted to make something that was really coherent and emotional and beautiful. And it's interesting that we were thinking in terms of that type of language, which really lends itself to the sort of things that I needed to express. I suppose my mother's death just gave the album a very clear tone: it might have been more eclectic if that hadn't happened. To be honest, I think we made the only record we could at that moment in time, and that feels really good.
Considering its subject matter, it must mean a lot that people have taken it to their hearts.
Yeah, it's been amazing to get really incredible responses back. I suppose the worst thing would have been if it had been perceived as a self-indulgent exploration of my feelings. But this record's not really about me, it's about something more universal. And I was really hoping that by expressing my feelings, it might allow people to express their own.
Was there ever a time when you wondered whether you'd be comfortable sharing such personal subject matter publically?
Very much so: it was a real test all the way through. And I think your motives for making something is the most important thing. I was very conscious of how personal it was, and how deep I needed to go, and that made me question if it appropriate to share that. And I suppose the mental instinct kept telling me that, yes, it was important to open that up and to share it.
That brought a lot of really interesting things into the light for me, because really it came down to the essence of what I think music is for. That's what expression is all about: you start from a point that's incredibly personal and, through that, there's scope to communicate something that can become universal, which is a really wonderful thing. That's why I think that we carry on listening to music, and reading books, and telling stories: it's because as the human race we need to feel connected and we need to know that we share experiences.
I guess the process became about whether I believed music had the power to do that. And I'm really happy to say that I do believe that with all my heart, so I'm really happy to share that stuff with people.
Is there a song on the record you're proudest of?
I'm really proud of the whole thing because I feel it honestly expresses some really profound things. And the biggest test was that I knew I wouldn't be able to name that record after my mum unless I believed in every single note and every single word, because that's what my mum deserves.
But I suppose the song that really stands out for me personally is 'What Happened'. It was the first piece of music that I wrote after laying my mum to rest so it has a real significance for me because I didn't know whether I would ever be able to write music again. It was very liberating to write but it also takes me to a really important place, that I will need to revisit many times in my life.
It must be interesting to hear what other people's favourite songs are. What do you make of Anna Calvi's cover of 'The Wall'?
Oh man... It's just so, so unbelievably beautiful. After my accident in Lagos, Anna came to visit me in hospital and brought me that song, with the most beautiful note. Hearing that song interpreted by such an incredible artist – and a very, very dear friend – was very special.
Are you recovered from the accident now? Being electrocuted must have been absolutely horrific...
Yeah, it was the worst thing... (laughs) that I've experienced physically: it was unbelievable. And emotionally pretty heavy, as well. I was incredibly lucky to survive at all, let alone without nerve or muscle or heart damage. I still have a broken leg, which has been a pain in the arse because we've had to cancel loads of gigs, but in the grand scheme of things it's pretty minor compared with losing your life. So I'm really fine with that. (Laughs)
Can you remember the incident well?
I remember every second of it, yeah. Because of the faulty wiring, my contact with these two instruments basically meant that I completed the circuit, and all the electricity was passing through my body. Everything went into slow motion. I realised what was happening but I couldn't make it stop.
I remember, I opened my hand wide to let go of Tom's bass but it was just searing into the palm of my hand. I remember thinking that this must be what it's like to be tortured, when you have no control over what's happening to your body. And the electricity raging through my body was so extraordinarily painful, I remember wondering if that's what the electric chair would feel like.
I thought I was a goner. I started seeing pictures of loved ones and then I felt the electricity earth through my right leg, and the force of that leaving my body caused my muscles to spasm so sharply that it actually broke my leg. The fact that I'm alive is beyond a miracle: nobody can really work it out. It was an awful experience but also it was absolutely incredible to have come through it. (Laughs) I feel totally invincible, basically!
Has it made you reappraise the way you live your life? Or altered the dynamic within the band?
Yeah, it's been totally life-changing. I feel like I'm four months old, like I've been born again. And having come through such a deeply traumatic experience together, it allowed us to see the depth of our friendship, because everything is exposed for what it is in a situation like that. Tom and Leo were heroes: they didn't hesitate to save me and they got me home in the most impossible circumstances. It shows you what you're made of and what you share together and that changes everything.
So much of what being alive is about, is just knowing the actual value of what you have and sometimes, unfortunately, it's through suffering and trauma that you learn that stuff. It's given me a much sharper focus and an appreciation of life, and I'm grateful for it.
So you're channelling that into music now?
Yeah. Creatively, it's been an incredibly fruitful time. It's very rare that I'm not making one thing or another. (Laughs) I'm hoping that in the next few months we can put some time aside to write as a band, but basically we're touring in October, and possibly a little more in November in Europe as well. But I'm also writing and producing stuff for Lulu for the next couple of months, and I'm working on a record with Grace Jones, and we're also building a studio at the moment as well. Yeah, so there's a lot happening and lot more to come!
October 2012