Twin Atlantic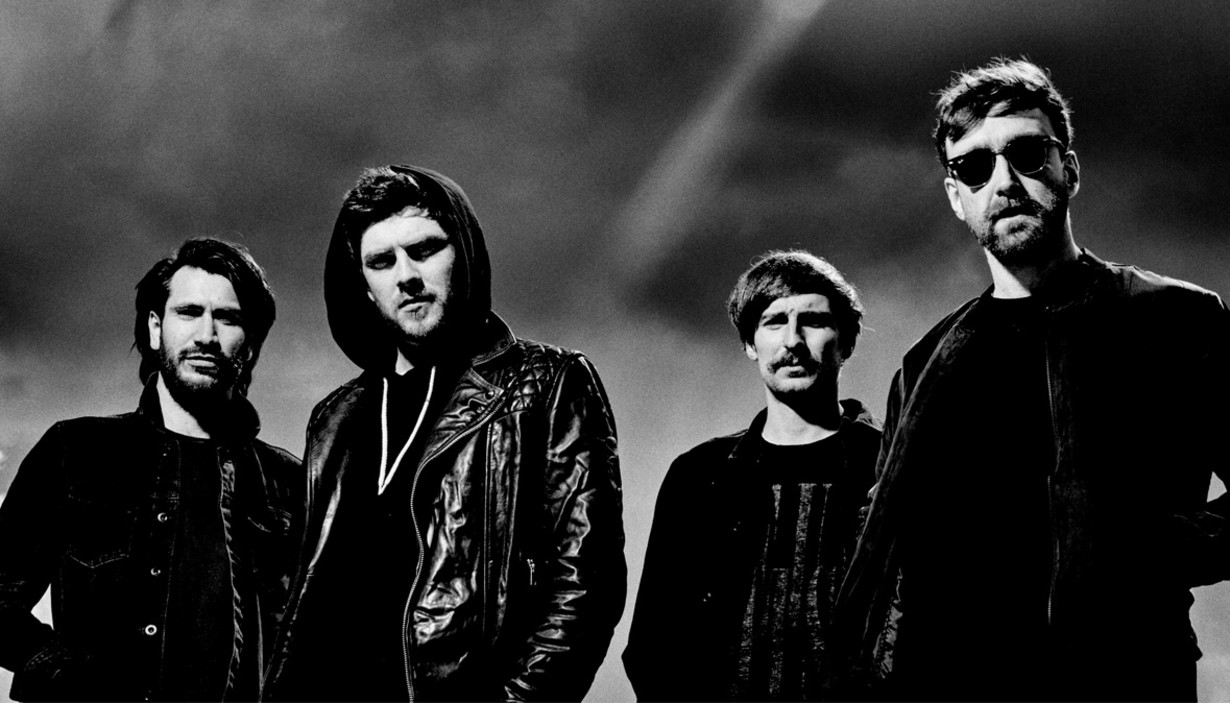 Two years since they scored a top 10 album with Great Divide, Glaswegian rockers Twin Atlantic are back with a fourth LP named in tribute to their hometown. We caught up with Sam McTrusty and Ross McNae from the band to discuss their new working methods, jet-setting lifestyle and deep connection to Scotland.
We hear you changed your approach to writing and recording for this album. Can you tell us more?
Sam McTrusty: Well, we kind-of fell into a record deal, and going into making an album and stuff like that. We went on people who'd done it before's experience; you know, people who had made 40 or 50 records, and knew how all the buttons in the studio worked. And there were strict rules, and there was a format where you needed to do this or that, otherwise it's not good. We'd followed those rules three or four times, and it was repetitive and just bored us a little bit.
Personally, I got stuck trying to write the perfect song, to the point of obsession; to the point where I really, really couldn't hear music the way that I used to. I was hearing flaws in everything. That really became a problem and I didn't listen to any music for a couple of years. So, even as a music fan, I had to walk away from it a little bit, and come back from a different angle.
Our band has always been one person's songwriting vision, but on this record it's been myself and Ross. We set up little studios at home, and followed a much more DIY, hip hop ethic of how to throw music together really quickly. And it was really exciting because you'd have an idea in the morning, and by that evening you'd have a full demo done. We didn't have to lock ourselves away in a room and rehearse, and rehearse, and rehearse, and rehearse to be able to capture it. So, yeah, it just couldn't be further from what a rock band's supposed to do. You're supposed to take six months to record; we did it in six weeks. It was just really exciting and refreshing.
Does that mean that you're prouder of GLA than previous albums?
Ross McNae: It probably is the one we're proudest of, but I guess it's because it's the first album we've made really selfishly. Every other record has been written with something else in mind. And that's just flat-out honesty; a lot of bands would pretend otherwise. We've always written to try and control the audience, or to maybe have a song that would fit in a certain point in the set. Or like, "We're getting played on the radio: let's write another song that does that." And this record was just about following what we liked. It was a really simplified and stripped-back approach to being a band, which has made it fun again.
You've got such a loyal following – do you think they'd like the new music regardless?
SM: I guess so... I definitely count myself as a fan of a few people that even when they're not doing their best work I'm still a fan, so I do see what you're saying. It's a really lucky position to be in that there are people out there that really, really do care about what we make together. It gives the band a bit of a purpose. But when we went to make this album we did think more about why more than ever: why are we actually doing this and what's the reason for us to make another rock record? So hopefully those fans don't totally abandon us. (Laughs)
What was it like going out to LA to record?
RM: Good man, it was good fun. If you like good weather, the beach, good food... Everything about this album was like, "What do you guys like? What do you want to do?" It sounds so obvious – and will probably sound silly to people – but there are just so many distractions and it's taken us nearly 10 years to think and hear clearly, past all the craziness of the music industry. There are a lot of infamous stories of this cut-throat business, but when you start you're just excited to be playing shows. Along the way, we definitely got stung a little bit, and this is us regrouping and coming back stronger than ever. All the Rocky movie clichés. (Laughs)
Are you flying first class nowadays?
RM: We actually fly the plane.
SM: We fly economy class. Anyone who goes in first class, you should go in business class and donate the difference in price to a local charity, instead of being such a capitalist maniac. (Laughs)
Can you tell about the album's lead single 'No Sleep'?
SM: It's quite literal. It's a no-nonsense rock song, and we put it out first because that's the message, of trying to reinvigorate rock music with a bit of honesty and authenticity. It's severely lacking in that right now. Don't get me wrong, there are a few bands that are representing it but we just wanted to make a bit more noise about it, and be a bit more blunt. And this is about as blunt as a rock song has probably sounded in the last few years.
Do you listen to a lot of rock yourself?
SM: Well, I used to a lot of heavier rock music, when I was first getting into playing guitar. And then you have this moment where things start to click together, and you outgrow that a little bit. I mean, I'm a massive Bruce Springsteen fan because there are just loads of albums, and it suits loads of different moods, and there's a bit of nostalgia for me because I grew up listening to it. Ross is a big, big pop music fan.
RM: The Human League, Talking Heads, The Beatles... We love Kanye West. I think everyone has their own things, and then there's an artist within the band that everybody loves, and Kanye is one of those people.
Are you looking forward to your forthcoming UK tour? There are some pretty intimate shows, right?
SM: Yeah, you're right, we're going back down a few venue sizes. We're playing venues that we never got a chance to play; ones we'd heard about. We wanted to get up close and personal, enjoy those "anything can happen" type of shows, which we missed a little bit because the gigs have been getting bigger and bigger over the last few years. So we're really, really looking forward to that
Is there a different vibe playing your hometown, than in other cities?
RM: There used to be. But I kind-of feel like in Scotland, and Glasgow in particular, crowds are pretty wild but we're quite lucky because the people who come to see us everywhere seem to want to have a good time and party. So, for the most part, the people we get to share a room and have fun with are just the same no matter where you are in the world...
SM: Maniacs. Having been lucky enough to travel all over the world in the past couple of years, it's refocused us on how amazing Glasgow is. It's on top of the world in terms of embracing multi-culturalism, and there are so many different music festivals. It's really, really thriving right now, and that's why we named the record after it; just to show our pride and hopefully to inspire other people. Like, it's ok to say you love where you're from and to be proud of it. People shy away from it sometimes. So, yeah, we've actually been sponsored by the tourism board of Scotland to call our album this... (Laughs)
What's the atmosphere in the band like ahead of the album release?
SM: It's fair to say we've not been this excited about being in a band in a few years. We've always been busy with what's happening now or next week, but the long-term future is feeling exciting again.
September 2016