Polar Bear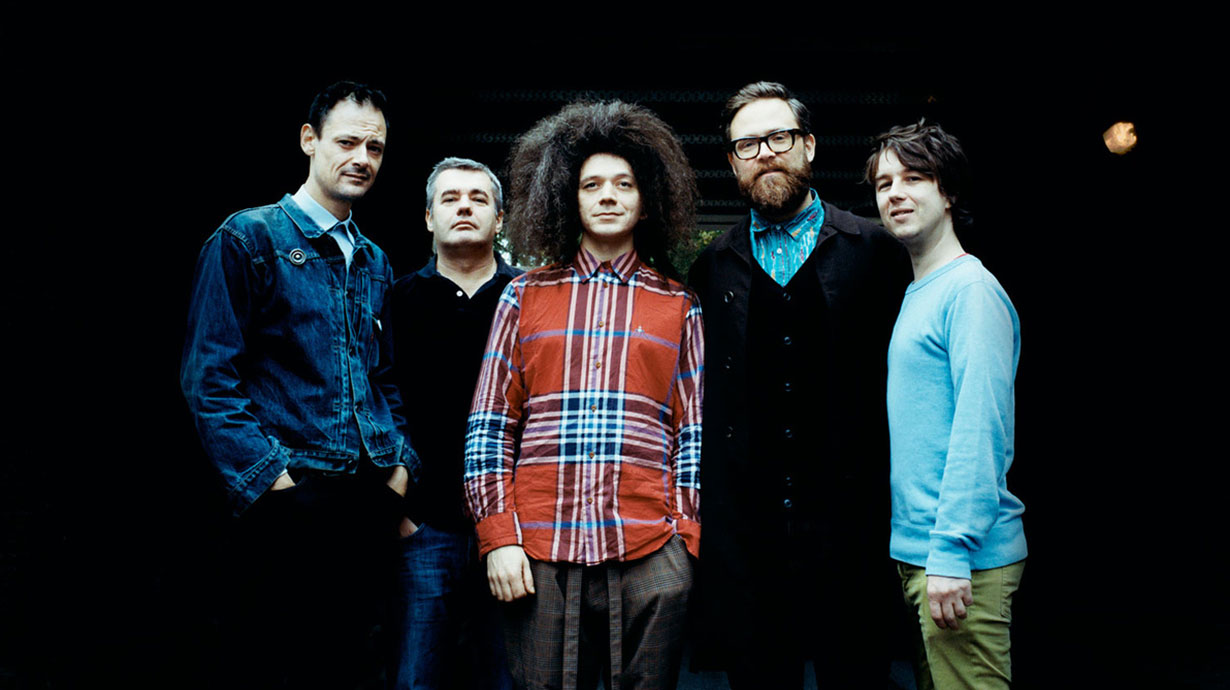 Now on his third Mercury Prize nomination – and second with Polar Bear – Seb Rochford is one of the most acclaimed jazz musicians in Britain. Here he explains what this year's nomination means to him, how their latest LP came together, and what we can expect from the follow-up.
Firstly, a massive congratulations on the Mercury Prize nomination. How did you find out?
I found out from Tony [Morley], who owns the Leaf Label, then was phoning everyone to tell them. I was really elated and surprised and grateful.
Does it feel as big a deal as the first time round?
To be supported again in this way, so long after the first one, almost means more this time. And especially because I felt this was our riskiest album. But I felt I needed to be true to myself and what I wanted to make.
Having been nominated three times now, do you think the Mercury Prize is still as relevant as it ever was?
For me, I love the unpredictability of it; that it is about music in a creative way, and open to different genres.
Do you feel this year's list offers a fair reflection of the British music industry?
I don't feel like I can say, but I know that there are some albums on there that I've listened to a lot this year.
Aside from yourselves, who would you like to see win?
I'm happy for anyone to win; to me it's more about being shortlisted. I haven't felt any competitive spirit the two times I have been nominated before, either.
What do you think that it was that the Mercury Prize judges saw in In Each And Every One, in comparison to Peepers?
From what I saw, it may have been that they thought we were pushing and challenging ourselves to make something we hadn't before.
There was a four year gap between the release of Peepers and In Each And Every One. Did you purposely decide to take time out?
My relationship with writing music for this band is that I don't want to force it; I let it come when it comes. It's important to me that our music is honest and that I feel I have moved on from the last album. This can sometimes take a long time, and sometimes only a short time. We've already finished the next album, as it came to me at the end of last year.
Can you tell me more about the creative process on this record, please?
Normally I hear the music in my head first, and then I write it down, using the piano to work out the notes. I then take it to the band to play, and this can sometimes change the song a lot, or maybe not much at all. I always have a strong idea of what I want, but let everyone have freedom to express how they feel it. I'm not attached to my initial direction if I feel it's better to lose it.
Even though I write the music for Polar Bear, it's a band where everyone is as important as each other, in terms of the sound we create. It wouldn't be the same music without everyone's input.
How long did the album take to create?
From the first period of writing, it probably took a year in total, but I was doing other things at the same time too. I did take a few months out, just to work and focus on it after we recorded it. I kind-of locked myself away, just get lost in the music and feel free emotionally.
What was the goal sonically?
Sonically, I wanted it to feel like there was a musical mist that sometimes clears – revealing ghosts of melodies and pulsating rhythm – then disappears again. That was the first feeling I had about making this album.
Was there anything about the creative process that you approached differently this time?
For the first time, I produced and mixed the album myself. It felt like it was time to jump in, and having the support and trust of the band helped me a lot.
How do you feel you've progressed artistically since Peepers?
When we started out, my first idea for Polar Bear was to make music that had dark grooves with almost nursery rhyme-like melodies on top. In the time since, I have made a lot of music with new people, and made new friends that have changed my perception on what music is. This album was more about what was happening in my life and all our lives, but it's always about striving to be the purest version of yourself creatively.
Is there a track that you're proudest of?
I'm not sure... I feel like they all express what they are about well. Though one of my favourites is probably 'Sometimes'.
You mentioned you've already completed the next Polar Bear album – when can we expect to hear it, and what can we expect from it?
It will be released in April next year. For me, if In Each And Every One is the moon, then the new album is the sun. I'm really excited about it. And this time I asked this producer I love from LA called Log.Os to mix it with me. We spent a couple of days at his studio, The Breath in LA, then went out into the Mojave Desert to mix it at Red Barn Recorders.
You always seem to have a multitude of different musical projects on the go at any one time. Outside of Polar Bear, what are you working on at the moment?
I'm working on an EP by a new band I'm in with Ranjana Ghatak and Jason Singh, called Human Beamings. I'm about to start on the new Sons Of Kemet album, that I'm playing on and producing for release next year. And I also have an album coming out next year with Andy Sheppard, and I'm producing a couple of people too.
What is it that always draws you back to Polar Bear?
Polar Bear is the band I write the music for, so in that way it is different to the other bands I'm in. I love all the music I play though.