Rhodes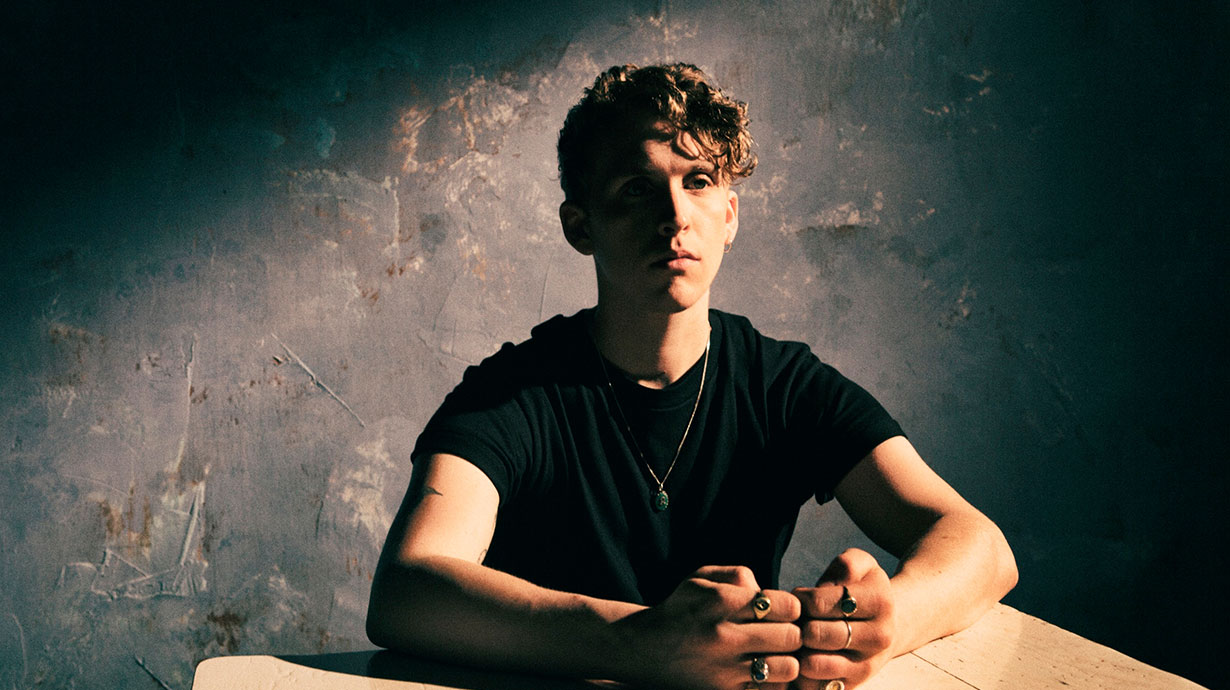 It might have taken 24 years for David Rhodes to try his hand at singing, but he's more than made up for lost time since, releasing a string of acclaimed EPs and playing shows with Sam Smith, Ben Howard and London Grammar. We caught up with the Hertfordshire-born singer-songwriter to discuss influences, stage fright and his Birdy-starring debut album, Wishes.
Can we talk about your musical background, please? Are you from a musical family?
My mum's very creative; she's not necessarily musical but she's always encouraged [my interest in music] and always had lots of music on all the time. My dad's the real musical one. My earliest memory of him is him playing guitar to me and my sister when we were kids.
My dad got me into blues when I was really young; he had a lot of records and we'd just there and listen to old blues music like Eric Clapton, and even back to the early Delta Blues stuff like Robert Johnson and Muddy Waters. He always had Led Zeppelin on and all the Woodstock bands too, and from there I got into classic singer-songwriters like Cat Stevens and Bob Dylan. So, yeah, I've got my dad to thank for really getting me into music.
Did you study music?
No, I'm self-taught. My dad taught me how to play my first couple of chords, but I think he encouraged me to find my own way with guitar. I just used to lock myself in my bedroom and play along to artists I liked, learning the songs. Teaching myself had drawbacks but I think it allowed me to develop my own technique and gain a more individual approach to playing.
Were you in bands growing up?
Yeah I was. I always played guitar and my best friend was a singer, so we'd team up in various incarnations – it was very free and experimental. And then when I moved to London, I started playing bass with a band called Foals (not that Foals) for a couple of years, doing the whole Camden circuit. It was just a bit of fun because I didn't really want to play bass, but it taught me a lot about composition and how important the rhythm section is. So, when I came to start writing my own songs as a solo artist, I had an understanding of that layer in music that I didn't before.
You only began singing at the age of 24, right?
Yeah. I think it was something I always really wanted to do but it was a fear that I had. I'm not really sure what brought on the fear of actually singing, maybe I was afraid that it wouldn't come out the right way. I just got to a point in my life where I thought I had to at least try it, so I spent a lot of time just writing and learning how to use my voice in a way I was comfortable with. I would record it and listen back, and make sure I was comfortable with how it sounded. I've never really tried to sing in a certain way; it was more a case of practising and getting used to my voice.
How long before you were playing shows?
It was very quick. I spent about six months just writing and then I'd eventually share the songs on SoundCloud. I played them to my girlfriend, and she thought they were good. She actually put me in touch with my now-manager. He started helping and guiding me and then, as the interest grew, it got to a point where I had to do a show.
Getting over the hurdle of singing was one thing, but then the thought of doing it in front of a crowd was a really daunting prospect. It took me a while to pluck up the courage; a few times I had to call up and say "I can't do it." But then I had this show at the Notting Hill Arts Club which I knew I had to do. It was terrifying. I forgot the words to a couple of songs, and I think I tripped over a little bit when I walked on. But it was one of those things where once you do it, it's not anywhere near as hard or as bad as you think it's going to be.
Let's talk about your debut. For the benefit of anyone yet to hear Wishes, what can they expect?
Well the album's quite dynamic. I didn't want any of the sounds to be too processed, so there are some soft moments on it, and it's a very cinematic album in terms of the soundscape. I think even though the songs seem quite introspective, there's a message in them that's quite uplifting. I'm hoping people listen to the album as one whole piece, because there's a loose narrative
Can you tell us more about that narrative, please?
Well, it's about my journey over the last two years: the obstacles and fears I've overcome to do something good for myself. We all have moments of doubt and insecurity, and I think if we can overcome things together it's a really great way of experiencing life.
Before I started writing this album, I hadn't really done too many things that I was that proud of, so overcoming certain insecurities and fears was the most important thing I've done. It's also important to me that people apply their own meaning to it, and I've left the lyrics intentionally ambiguous for that reason. I find it fascinating when people come up to me and tell me what a song means to them.
Is it true that each song starts with a visual image?
It's the soundscape that I start with, so not so much visually as sonically. I love the way movie soundtracks make you feel a certain way. So I just start on a piano or using a guitar with a certain effect on it, and play around with finding things that I like and seeing how that makes me feel. Then I just try to find a natural flow and get to know how that soundscape makes me feel, before I start approaching the lyrics.
You've referenced cinema a few times now. Were there any reference points from film for these songs?
I've really started getting into Danny Elfman's soundtracks for Tim Burton. 'Edward Scissorhands' had a soundtrack that really did influence the imagery in my head. And I really like the way he uses vocals as a texture, as opposed to just as a lyrical vehicle.
So when and where was Wishes recorded?
I started recording it in November 2014 and it took about six months in the end, in a little village called Fraisthorpe, which is just outside the seaside town of Bridlington. It was with a guy called James Kenosha, who was the first person I ever recorded in the studio with.
The whole process was very free and organic: we just spent a lot of time improvising and experimenting with sounds in the studio. I think the very remote setting really suited the music as well, because I wanted to capture the lonely, insular process that songwriting can be. Being up there with no phone signal and no internet – and with just James and a couple of big dogs for company – really worked.
Were there any other people involved in the album?
I spent a week working with this guy from America called 1985. He didn't actually come to the studio with me, but we spent a bit of time just showing him some of the tracks. He's actually worked with Drake, so it was quite a strange pairing, but we were both into the same music and he just had these different approaches to things. He introduced me to different drum sounds and sub-bass, so it was really cool. And there was a guy called Keiran O'Malley who played the violin on the album.
You duet with Birdy on 'Let It All Go', too. How did that come about?
We had a few mutual friends, and it just came up in conversation that maybe we should try doing a song together. I haven't really done many collaborations before, so when we met it was quite daunting. But we just sat at the piano for an afternoon and we ended up with this song. I don't think we were quite sure what we were writing the song for at the time, but when I was working out the tracklisting for my album, I just thought it would be a really great little departure. I'm really glad that's on there; I'm pleased with that song.
Are there any other tracks on the album that you have a particular connection to?
'You & I' is probably one of my favourites on the album, because it was quite poignant at the time. When I was writing I just wanted to be on my own, but I feel like there were times when I wasn't really there for people who I should have been there for. With that song, I actually bumped into one of my best friends from my hometown and he was really, really upset about something. I felt so bad because it was a chance encounter and I didn't realise he was having such a hard time. So that song was a direct consequence of that chance meeting.
What do you think listeners will take away from the album?
I think they'll probably hear something quite melancholy at first. I do write quite moody, atmospheric music, but I'm hoping that people will see the uplifting message in it as well. I'm hoping people don't read too deeply into my mind! I want people to hear something that's scenic and grand, but at the same time very personal.
You've played support slots with some huge acts, including Sam Smith and Ben Howard. Does the level of stardom appeal to you?
I can't ever imagine being somebody who would want to be out there in the public eye the whole time. I think Ben Howard plays it really well; he really keeps himself to himself and he's a musician at heart. If I can get recognition for my music then great, but I'm definitely not interested in being a celebrity. It can be quite scary sometimes when you see the way certain people do it, career-wise. I think it's a choice that people make.
I don't think anyone could have predicted the global success Sam Smith's had. I mean everyone always knew he was incredible, but it's kind of astronomical what's happened to him. I think he's keeping his integrity in tact and being very cool about everything.
So what is the goal for you, ultimately?
Touring is something I'm really enjoying now, and my next goal is to do a big tour, in America, maybe. I'm going to Australia for the first time in October and that was a goal that I had for a long, long time. Really, I'd love to just be able to keep making more music and as long as I can do that I'll be happy.
August 2015