Angel Haze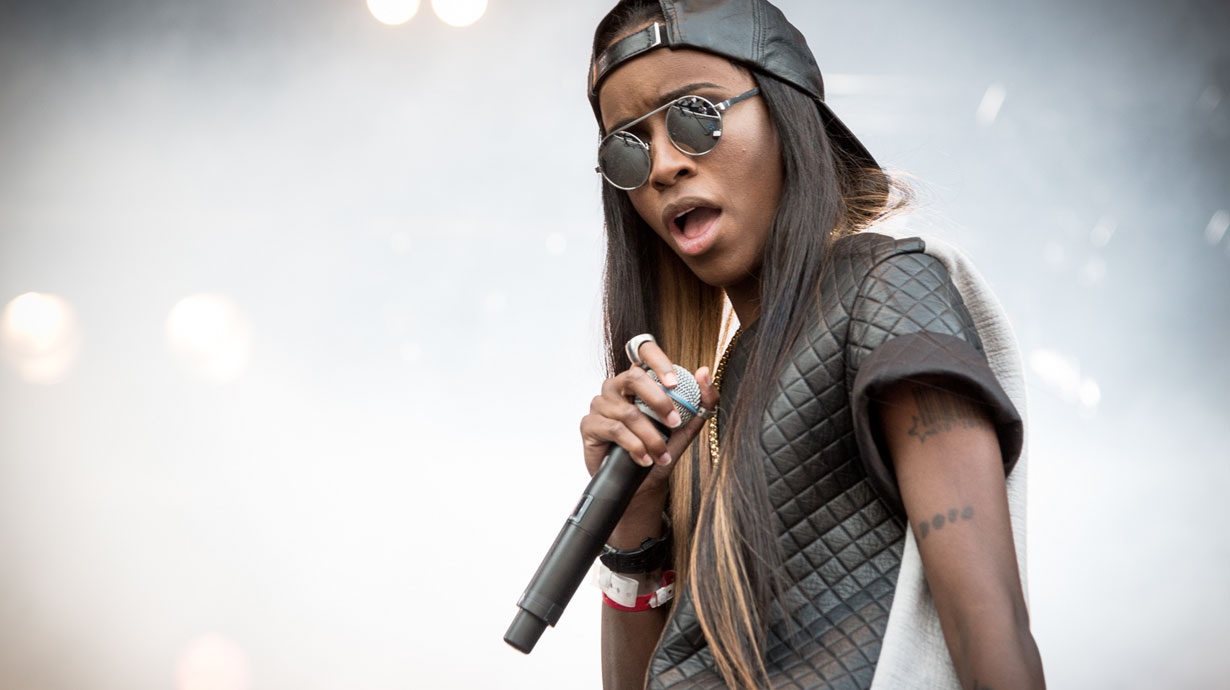 Since exploding onto the US hip hop scene with 2012's Reservation EP, Angel Haze has collaborated with the likes of Rudimental and Lunice, and scored a top three place in the BBC's Sound of 2013 shortlist. We caught up with the Detroit rapper to get the low-down on latest single 'Echelon' and her forthcoming debut, Dirty Gold.
Let's start at the beginning: how long have you been making music?
I started when I was 18, so about three years.
Who were your idols when you were first getting into rapping?
The only rappers I really listened to back then were Eminem and Kanye West, and all my other inspirations come from writers: people like Charles Bukowski, Sylvia Plath, John Greene and Mitch Albom. And Edgar Allan Poe! He's my favourite.
But 'Blackhead Skinhead' by Kanye West is probably my favourite track of the past 12 months. it's epic. I like the production a lot, and I like the lyrics, and I like the way he's aggressive on the album – it's great.
There's definitely a sense of aggression in your music too. Is Angel Haze a role you play, rather than a reflection of your personality?
Yeah, totally. I'm quite shy in real life. But in music I feel like you can be who you wanna be, and that's fun for me.
Can you describe Angel Haze to us?
Sure. Angel Haze is very brash, raw, confident, really unwavering in her opinion and doesn't really give a f*ck about anything outside of what she feels. She's very self-absorbed but overall looks to encourage other people, so it's kinda this weird duality. I care a lot about myself but I care so much about the world at the same time.
How does the creative process work for you?
I actually don't write unless I'm in the studio and I've got a mic set up to record everything that I'm thinking. And then I end up with so many ideas that I choose from what I've recorded, and pick the one that's best for me.
Do you do lyrics or music first?
Always music first. There are very few times where I start with lyrics first.
Let's talk about your new single, 'Echelon'. Sonically, it's a pretty different vibe to the New York EP – it almost sounds EDM. Did you have any specific musical reference points?
I don't know, all kinds. I just went in to the studio and Markus [Dravs] played it for me and I was like, let's do it. Though only after being made to sing high notes for seven hours...
Your producer Markus Dravs is most famous for his work with Coldplay and Mumford & Sons. What attracted you to work with him?
He stalked me for about a month. (Laughs) And then we met on a beach in Sacramento to talk about the album, and I was really surprised to find that he would be really helpful in regards to making the album that I wanted to make. And he was surprised that I actually knew what kind of album I wanted to make. So from there our relationship has just continuously grown.
What was he like to work with?
He was really cool to work with because he pushed me; he pushed me so hard. And other producers that I was working with at the time, they weren't doing that, so I needed someone like him. When he decided that he wanted to executive produce [the album] I was so stoked, and then I got to spend a month in Spain with him. It was just… great.
What do you think he can bring to your sound that a more established hip hop producer can't?
Diversity. I think it's cool that he's done so many different pop and alternative-rock records. He's even done Björk. So it's like he has all this musical knowledge because he doesn't limit himself to just one style. And that worked massively on this album because I wasn't going for hip hop; we just made the record that I wanted to make.
Your debut's called Dirty Gold, right? Does it have a release date yet?
Yeah, that's right. I'm releasing in January.
Did you work with any other producers aside from Markus?
Yeah, there's Malay Ho who recently did the Frank Ocean album, Mike Dean who did Yeezus, Greg Kurstin, Jake Gosling, Isabella from Florence + The Machine and Rudimental.
And are there any guest stars?
Mhm. I only talk about the one I'm most proud of; I've got Sia. So she's on one of my future singles, and she's so epic.
In terms of the album, how do you feel you've progressed artistically since the New York EP?
I can actually construct a song now. I feel like I just got lucky with the New York EP: half the songs I just wrote on the bus to New York in, like, three hours. This album actually took time. It took crafting, it took learning, it took forcing myself outside of my box to think differently and work with a bunch of different people. Creatively that has made me so much more advanced than I was on the New York EP. And it's created such an intense diversity in the music that you can't really compare it to anything else.
Have your motivations changed since making the EP? Or are you still driven by the same desires?
The main goal is for the music to reach the people who need it, and that never changes. I change as a person and that contributes to my music and my outlook on the world, but it's nothing too dramatic.
What's your ultimate aim for Angel Haze?
Um, I wanna be as iconic as I am in my mind. (Laughs) And I wanna give something back. I'm hugely into philanthropy, so even if my music is helping someone just get through their day, that's good enough for me.
It's been a crazy 12 months for you; was receiving the BBC Sound of 2013 nomination a highlight?
Yeah, it was surreal because I didn't expect any of it, and I think it's really cool to have had that happen for me. And I was on the line-up with a couple of my best friends too, which was really cool, like Haim and AlunaGeorge.
But my highlight would be actually working on, and finishing, the album. That and playing the same festival as Eminem: crazy.
September 2013